Great e-Debate "Epidemics, Urban Systems and Geosciences"
This debate was held on Monday 4th May 12:30 CET on occasion of "EGU2020: Sharing Geoscience Online" and as an extension of the European Geosciences Union (EGU) session ITS2.10 / NP3.3: "Urban Geoscience Complexity: Transdisciplinarity for the Urban Transition".
e-Convener: Daniel Schertzer (Ecole des Ponts ParisTech) / Co-conveners: Alexander Baklanov (World Meteorological Organisation); Paul Bourgine (UNESCO UniTwin); Matthias Demuzere (Ruhr-University Bochum); Klaus Fraedrich (Max Planck Institute, Hamburg); Gaby Langendijk (Climate Service Center Germany); Gabriele Manoli (University College London); Stefano Tinti (Bologna University); Benjamin Zaitchik (Johns Hopkins University).
It was organised with the UNESCO UniTwin CS-DC (Complex Systems Digital Campus) and was focused on a major upset of the geosciences agenda, particularly that dealing with urban systems so that they contribute more to well-being and health. This great debate will be an opportunity to take stock and open up perspectives, particularly on epidemics and mobility, the dynamics of Covid-19, cities, health and geosciences.
Related documents (to upload)
Lecture 1 "Epidemics and Human Mobility" by Theo Geisel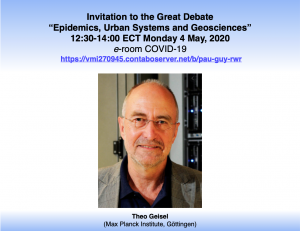 Theo Geisel is Director em. of the Max Planck Institute for Dynamics and Self-Organization, Professor of Theoretical Physics at the University of Göttingen and founding director of the Bernstein Center for Computational Neuroscience (BCCN) Göttingen.
A recipient of the prestigious Gottfried Wilhelm Leibniz Prize and other prizes, he is a member of the Academy of Sciences and Humanities Göttingen and Fellow of the American Physical Society. He previously was Professor of Theoretical Physics at the University of Würzburg and the J.W. Goethe University of Frankfurt.
Well known for his research on nonlinear dynamics and chaotic systems, e.g. for the discovery of Levy walks, he is working in fields that include quantum chaos and semiconductor nanostructures, the spread of epidemics, and theoretical neuroscience.
Lecture 2 "Covid-19 Dynamics" by Jacques Mongeot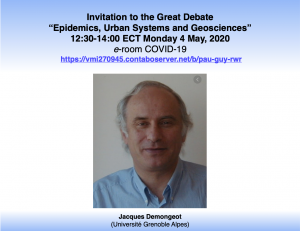 Academic Positions: Director of the Laboratories CNRS TIM3 and after TIMC-IMAG (1987-2011); Director of the Department of Medical Information and Public Health at the University Hospital of Grenoble (1990-2013); Director of the Doctoral School EDISCE (1996-2007); Senior Member of the Institut Universitaire de France (IUF) (1994-2005) (chair of Biomathematics); Responsible of Medical Technologies, Ministry of Research (1997-2001); Chief of Mission Systems Biology and Complexity, CNRS (2003-2006); Joined Director of the French-Japanese LIA ReaDilab (2007-2016); Joined Director of the Laboratory CNRS AGIM (2012-2016); Professor Emeritus University Grenoble Alpes (2017).
Member of the Council of Scientific Societies: Société Française de Biologie Théorique (SFBT) (President 2007-); European Society for Mathematical and Theoretical Biology (ESMTB) (Founder Member and President 2002-2004).
Lecture 3 "Covid-19, Cities and Health" by Mark J. Nieuwenhuijsen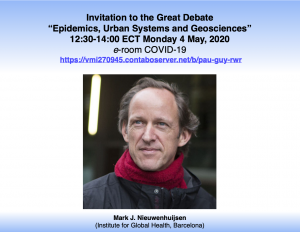 Mark J. Nieuwenhuijsen is Research Professor, Director of the Urban Planning, Environment and Health Initiative, and Director of the Air pollution and Urban Environment PrograMark J. Nieuwenhuijsenmme.
He is a world leading expert in environmental exposure assessment, epidemiology, and health risk/impact assessment with a strong focus and interest on healthy urban living. He led the TAPAS (active transportation and health) and PHENOTYPE (green space and health) studies and participates in the ESCAPE (air pollution and health), HELIX (exposome and health), EXPOsOMICs (exposome and health) and PASTA (active transportation and health) studies. He has edited 3 books on Exposure Assessment and on Environmental Epidemiology, and one on Integrating human health into Urban and Transport planning, and has co-authored more than 400 papers.
In 2018, he was awarded the ISEE John Goldsmith Award for Outstanding Contributions to Environmental Epidemiology.
General discussion