Avril 2021 : Présentations à l'EGU
Chloé Duffaut a présenté ses travaux de post-doc à l'European Geoscience Union conference lors de la session NH1.4 – 'Nature-based solutions for hydro-meteorological risk reduction'. Sa présentation est intitulée Barriers and levers for implementing sustainable Nature-Based Solutions in cities.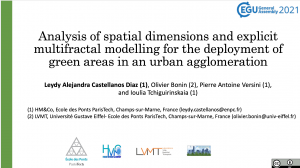 De son coté, Alejandra Castellano a présenté ses travaux de thèse sur le scénarisation de l'implantation de végétalisation dans les espaces urbains lors de la session AS5/HS13 "Scaling, Multifractals from Urban to Climate scales, from Theories to Big Data Analysis and Simulations". Sa présentation est intitulée : Analysis of spatial dimensions and explicit multifractal modelling for the deployment of green areas in an urban agglomeration
Décembre 2020 : Premiers résultats des simulations Multi-Hydro sur le site du campus ENPC
La plateforme Multi-Hydro développé au sein du laboratoire HM&Co a été mise en oeuvre sur le site du campus. Il permet de simuler le comportement de ce site lors d'un événement pluvieux en tenant compte des différents processus hydrologiques mis en jeu (ruissellement de surface, infiltration, écoulement dans les conduites du réseau…). Il permet aussi d'estimer dans champs d'évapotranspiration en période sèche. c'est cette dernière information qui sera ensuite introduite dans SOLENE-Microclimat sous forme de flux de chaleur latente.

Septembre 2020 : Début du post-doc de Chloé Duffaut
Ce post-doc d'un an pose la question suivante :"Comment organiser les villes de demain avec des solutions basées sur la nature à la fois pérennes, viables et permettant de limiter l'impact du changement climatique ?". Il est co-encadrer par Nathalie Frascaria-Lacoste, Professeur à Agro ParisTech. Il s'agit de s'interroger sur les leviers et freins qui interfèrent lors de la mise en œuvre de Solutions Bleues Vertes (SBV) en milieu urbain dans l'objectif d'en faciliter l'implantation et la pérennisation. Pour cela, on s'intéressera aux complexes sol/végétation communément utilisés dans les SBV pour : (i) les caractériser à l'aide de leurs fonctions éco-systémiques, (ii) déterminer tous les facteurs locaux (climatique, technique et socio-économique) qui peuvent influencer et conditionner leur choix.
Juin 2020 : Premiers résultats des simulations SOLENE-Microclimat sur le site du campus ENPC
En collaboration avec le Cerema, le campus de l'ENPC a été modélisé pour simuler le comportement thermique et aéraulique du site. L'objectif sera ensuite de coupluer SOLENE-Microclimat à Multi-Hydro pour tenir compte de la présence des espaces verts (dont la Vague Verte, toiture végétalisée d'un hectare) sur le micro-climat local.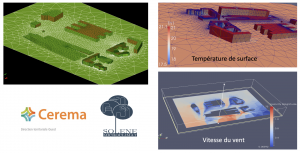 Avril 2020 : Présentation d'Alejandra à l'EGU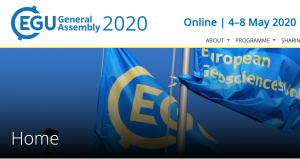 A l'occasion de la conférence European Geoscience Union, Alejandra Castellano présente deux volets de ses travaux de thèse :
Juillet 2019 : Campagne de mesure du bilan énergétique de la vague verte – Saison 2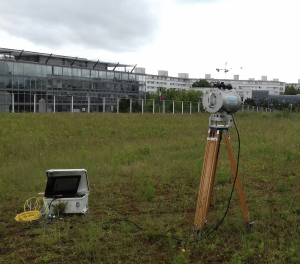 Après une recalibration du scintillomètre, une nouvelle campagne de mesures est organisée sur la période printemps – été. Elle a poiur objectif d'appréhender les différents composants du bilan énergétique : rayonnement net à l'aide d'un radiomètre, flux de conduction dans le sol à l'aide d'un profil vertical de température, et flux de chaleur sensible à l'aide du scintillomètre. Il en est déduit le flux de chaleur sensible, directement lié à l'évapotranspiration. Ces estimations sont ensuite comparées à des mesures ponctuelles d'évapotranspiration réalisées à l'aide de la chambre.
Aout 2018 : Campagne de mesure du bilan énergétique de la vague verte – Saison 1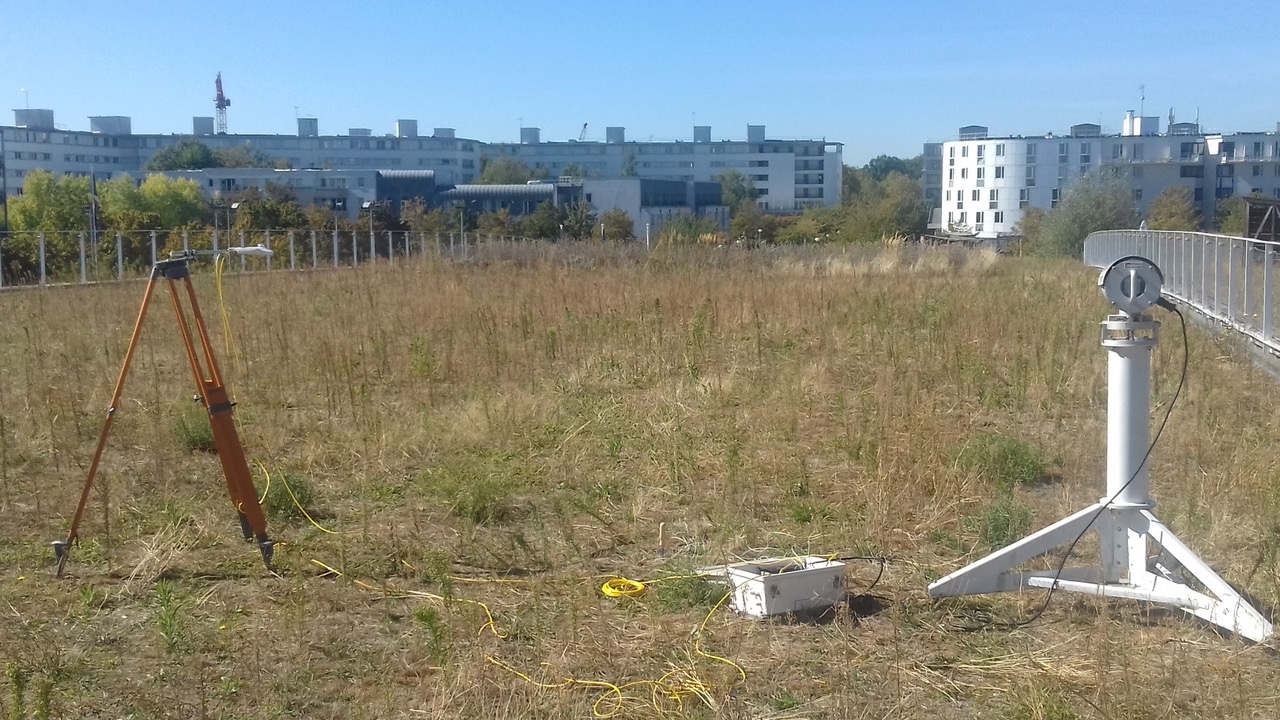 During the summer of 2018, some first tests were made to measure the different components of the energy balance of the Blue Green Wave. A radiometer (lent by Kipp & Zonen) measured the net radiation taking into account both short- and long- wave radiation emitted by the atmosphere and the soil. Several temperature sensors were implemented into the soil to assess the soil heat flux and the heat storage variation. Finally a scintillometer was implemented (in collaboration with University of Strasbourg). This device is especially adapted to measure the turbulent sensible heat flux. Combined with the other sensors, it makes possible the estimation of latent heat flux with high resolutions. The latent heat flux, directly linked to evapotranspiration, is particularly relevant as it characterizes the ability of the green infrastructure to cool the air.
Avril 2018 : Campagne de mesure à l'aide de la chambre à transpiration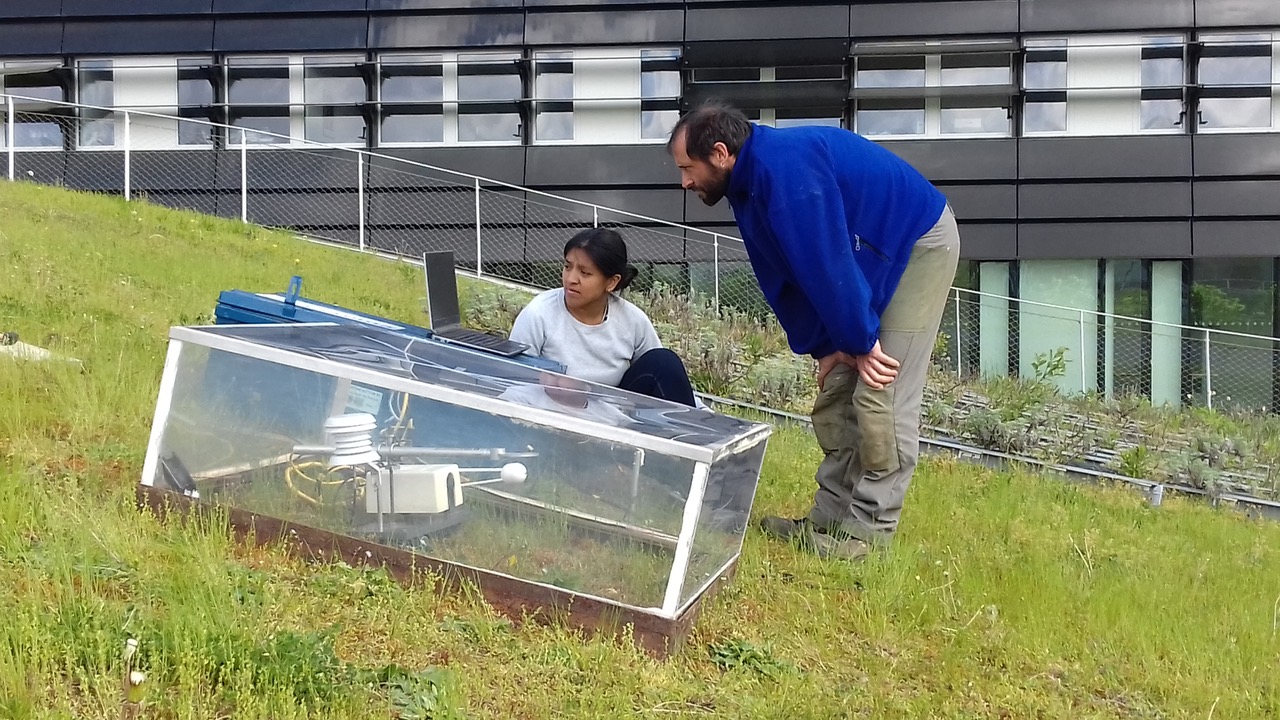 On April 26th, the first EVNATURB evapotranspiration campaign was carried out on the Blue Green Wave, in front of École des Ponts ParisTech. The campaign aims at estimating evapotranspiration flux in different locations to assess its variability in space and time. With this purpose, a portable transpiration chamber developed by David Ramier (Cerema Île de France) was used. It contains several sensors: temperature probes, a gaz analyser to estimate absolute humidity, and a radiometer to assess net radiation. Absolute humidity is measured during 1 minute after the chamber implementation on the vegetated surface. During this period of time, a linear relationship between evapotranspiration and humidity variation is maintained. Further campaigns are planned in the next (spring and summer) months. These measurements will be coupled with TDR water content and scintillometer measurements to assess the different components of the energy balance.